Addresses and Services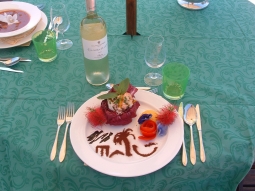 The Restaurant
Even tough it is a beach restaurant, much care is given both to the quality and the preparationof the dishes, such as their presentation. The menu changes every day, including Italian traditional dishes and international dishes picked up by the owners throughout the world. Mainly based on fish, the menu contains also lovely steaks and beautiful salads. Fresh fruit trays and home made cakes complete the careful courses selection. A list of white and red wines, selected with great care, allows the guests to underline the delicate flavours of the food.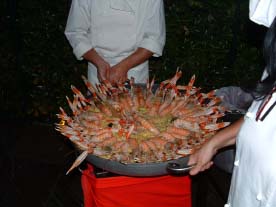 At evening, dinner is served around the pool, only for ten tables and only on reservation. The Maldivian "Catalane" and the "Brochette de poisson" are served together with selected wines in a charming atmosphere with suffused light and a soft background of music.
Everyday gluten free dishes are prepared.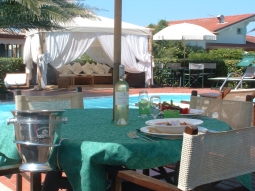 The Refreshment Service
The service from Bar and Restaurant is active all day long, both on the beach and around the pools. Refreshing drinks, ice creams, snacks or complete meals can always be ordered: just press the bell-push!
In the afternoon fresh fruit cocktails, fruit shakes and refreshing drinks are prepared around this lovely bar near the beach. At evening, lovely aperitifs with a background of music.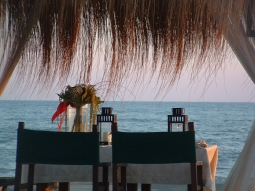 Romantic Dinner


A table for two, laid with great care, is prepared under a gazebo on the seashore. Champagne and precious food go with this unforgettable experience, in the complete privacy of on-call service. The background of music is given by the sea backwash and the evening breeze.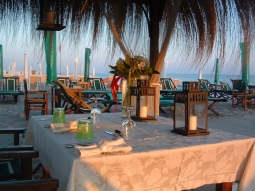 Here are run the coolest parties of the Riviera. Private Parties, Birthday Parties and ceremonies are arranged as well, around our pools or on the beach. Live music, well known DJs, shows and performances are available for our customers, whose only duty is to amuse themselves.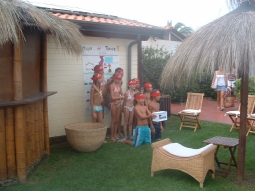 Mini Club
Every afternoon the children are kept amused by specialized entertainment organizers, under a dedicated gazebo or playing on the beach or in the swimming pool. The entertainment program is prepared weekly and advertised on our notice board.
A wide catalogue of card and parlour games is available, selected for children it is also suitable for adults: along with the classical "Magic Labyrinth" and "Monopoly", some newer games like " The Trap" are really amusing.

This is a fusion between for a Total Wellness. Piloga melts in a innovative way several Pilates exercises with many others from Yoga, allowing your redressing and limbering up, in other words your ideal rest tone restoration, unforced and relaxed. The session is completed by a meditative phase, during which refreshing and relaxing infusions are served.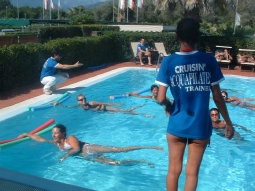 Water Pilates
Pilates is an amusing way to exercise your body, using your mind to control your muscles. We practise this discipline into the pool water, to increase your pleasure and amusement, enforcing your core postural muscles which help keep the body balanced and which are essential to providing support for the spine.
Everyday customers can profit by relaxing and analgesic massages, both traditional and Shatsu. Two professional masseurs alternate to give you the maximum relax also on appointment.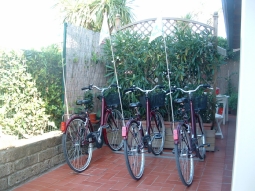 A small fleet of beautiful bicycles is available for renting, to reach easily Forte dei Marmi or Marina di Massa, leaving your car in our private parking. The hire rate is symbolic and bicycles can be taken for the entire day or for several days as well.
A wide selection of Italian and English books is available on lending. Books for children and young adults are available as well.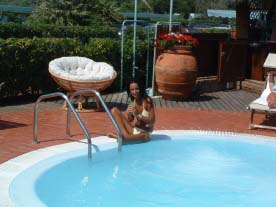 Newspapers and Magazines
Local, national and financial newspapers are available for reading, such as national and international magazines. On demand, several regional newspapers are available, both Italian and European.
WiFi Internet Connection and Fax
Our pools, buildings and the beach are totally covered by the WiFi signal and a high speed internete connection is available for free for our customers, such as our Fax Machine, both in receiving and in sending.
Our Boutique
Inside a Boutique is available as well, offering a selection of accessories like bijoux, ethnical items, hats and pareos, sea accessories, bikini and swimming trunks, Malů t-shirts, swimming accessories.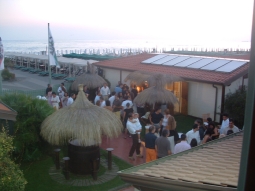 Car Wash


On request, cars are collected from the park, washed and returned within the day.

Private Car Park
Available for customers for free.
Languages


English and French.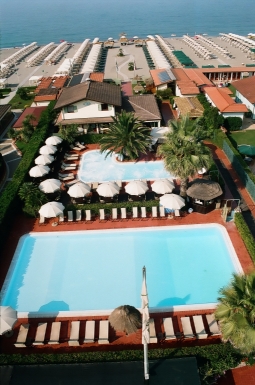 Bagno Malů


Lungomare Levante, 204